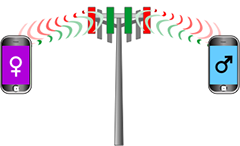 We are the Experts in presenting historical mobile user equipment's location information
We provide the legal community with expert assistance in the acquisition and presentation of historical user equipment location information. We will assist you with the process of identifying the serving cellular operator, producing the associated Subpoena Duces Tecum requesting the information in the proper format, producing a certified visually illustrated evidentiary presentation of the findings and optionally expert testimony.
For parties without legal council we can recommend law firms familiar with the evidentiary use of mobile device location data.